Summarizing, Paraphrasing, and Quoting Texts
By Mary Montero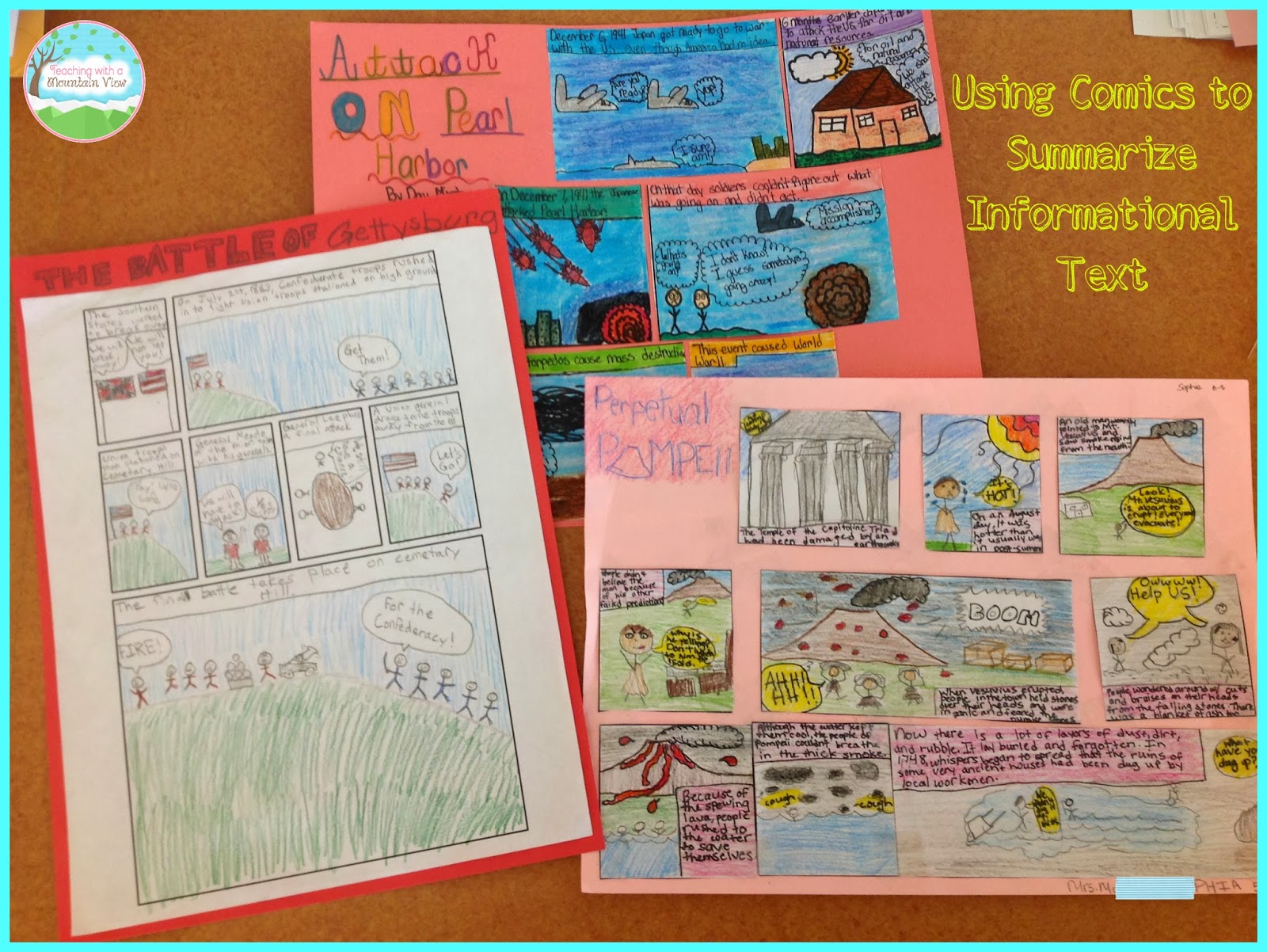 We are SO close to being done with our nonfiction unit, and I'm looking forward to jumping back in to novel studies. My students are slowly growing to love (okay, maybe like is still a better word) informational text, and that was truly one of my main goals in all of this.
Last week, we did a brief review of the difference between summarizing, paraphrasing, and quoting texts.  I should have done this a long time ago!  I often see it taught in the context of research, but when I started seeing summaries that used direct quotes or lines from the text, I knew it was time.  It's also a huge skill for 5th graders to be able to paraphrase well, so I decided it was worth taking the time to do.  Oh, and the fact that standardized testing is coming in less than month was excellent incentive as well.
First, I used an idea that I got from Teaching in Room 6 about summarizing nonfiction texts with comic strips.  I LOVED this idea, and you should really read her original post.  She does a great job of explaining it, and her kids actually used the Comic Creator software to make really neat and authentic-looking comics!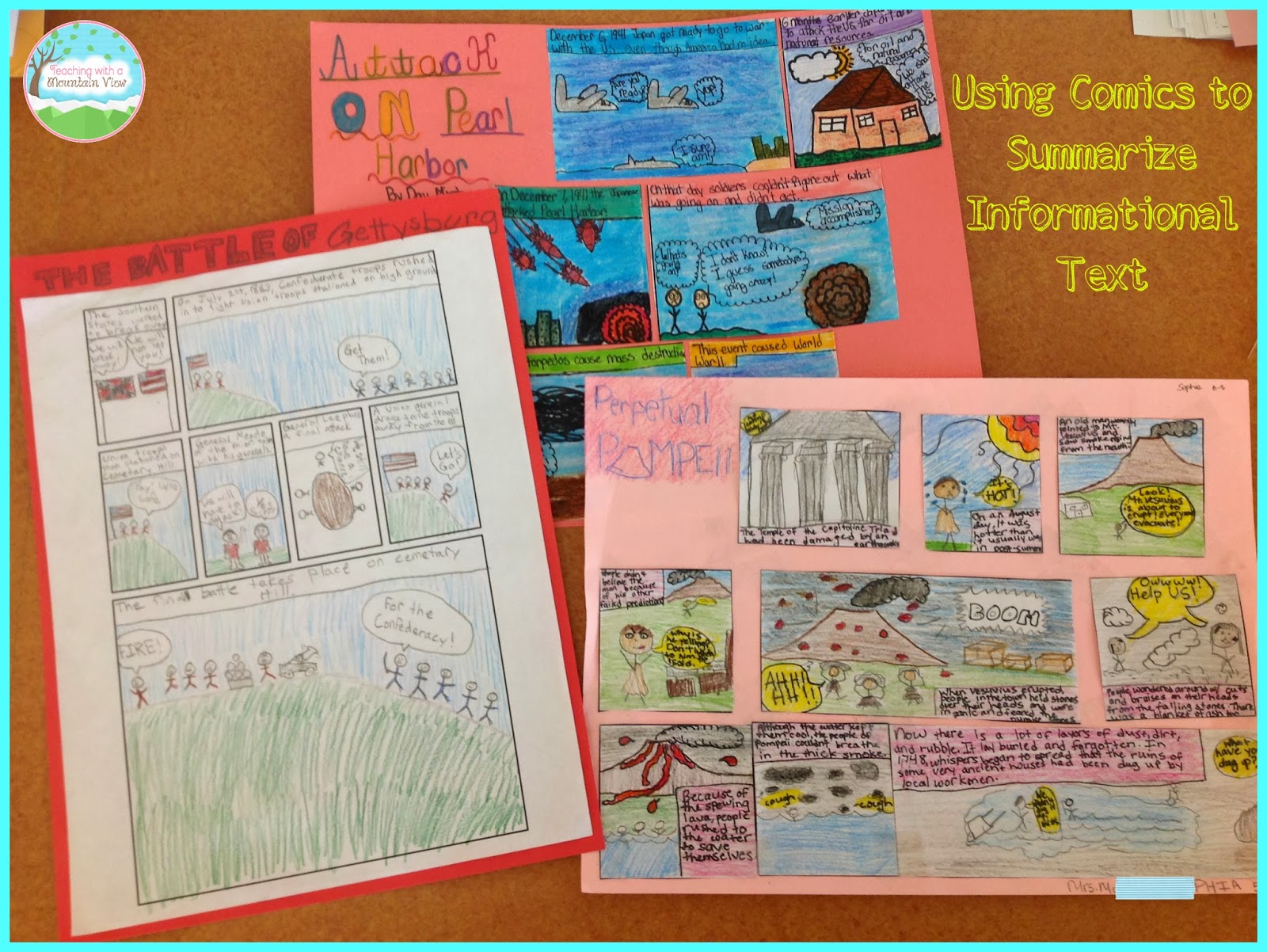 I began by having my students select a book from our library focusing on an event in history.  They had to really focus in on one event that only spanned the course of about a day.  So, if they chose a major war, they had to pick one battle.
Then, they wrote summaries of their events.  Next, I had them transfer their summaries into comics.  They had to use text and dialogue to tell the story and include all of the information their summary had (without just rewriting, of course).
They came out so nice, and they all agreed that it was such a fun way to practice summarizing!
Update: I now have an entire post on teaching summarizing!  Click here to read more about summarizing, too.
Then, we made a foldable and anchor chart to review the differences between paraphrasing, summarizing, and quoting.  Most of the students knew what quoting was but had forgotten how to do it with integrity (using quotation marks and referencing the author).
I included a definition of each then some key ideas about each.
Update: Here's another version, and you can download the template to make your own HERE.  The notebook template is also included in this free file.
They copied the key ideas on the top flap of their foldable.  Then I created some summarizing task cards to help them see the difference between the three different types of rewriting and retelling.
I made a copy of the first card for each student and they glued it on the same page as their foldable. Under each section of the foldable, they did the task under the flap so that they could see the different between paraphrasing, summarizing, and quoting using the same text.  We also underlined and color-coded their responses from the text.  This week, they are working on one card per day as part of their reading warm up.  So far, they have been incredibly effective, and I know it will make a difference in their written reading responses. It will also be great to have this under their belt for research in the future.
If you are interested in the summarizing task cards, you can buy them HERE.  They also include a digital option to use with your student devices!
Working on just one skill at a time? This summarizing, paraphrasing, and quoting BUNDLE is a good starting place when working with shorter paragraphs. Each of these task card sets includes 32 high-interest nonfiction reading passages and a single prompt to summarize, paraphrase, or make a direct quote.
Have a happy week!
Mary Montero
I'm so glad you are here. I'm a current gifted and talented teacher in a small town in Colorado, and I've been in education since 2009. My passion (other than my family and cookies) is for making teachers' lives easier and classrooms more engaging.