Beyond Story Elements: Encouraging your students to think critically about elements of the text
By Mary Montero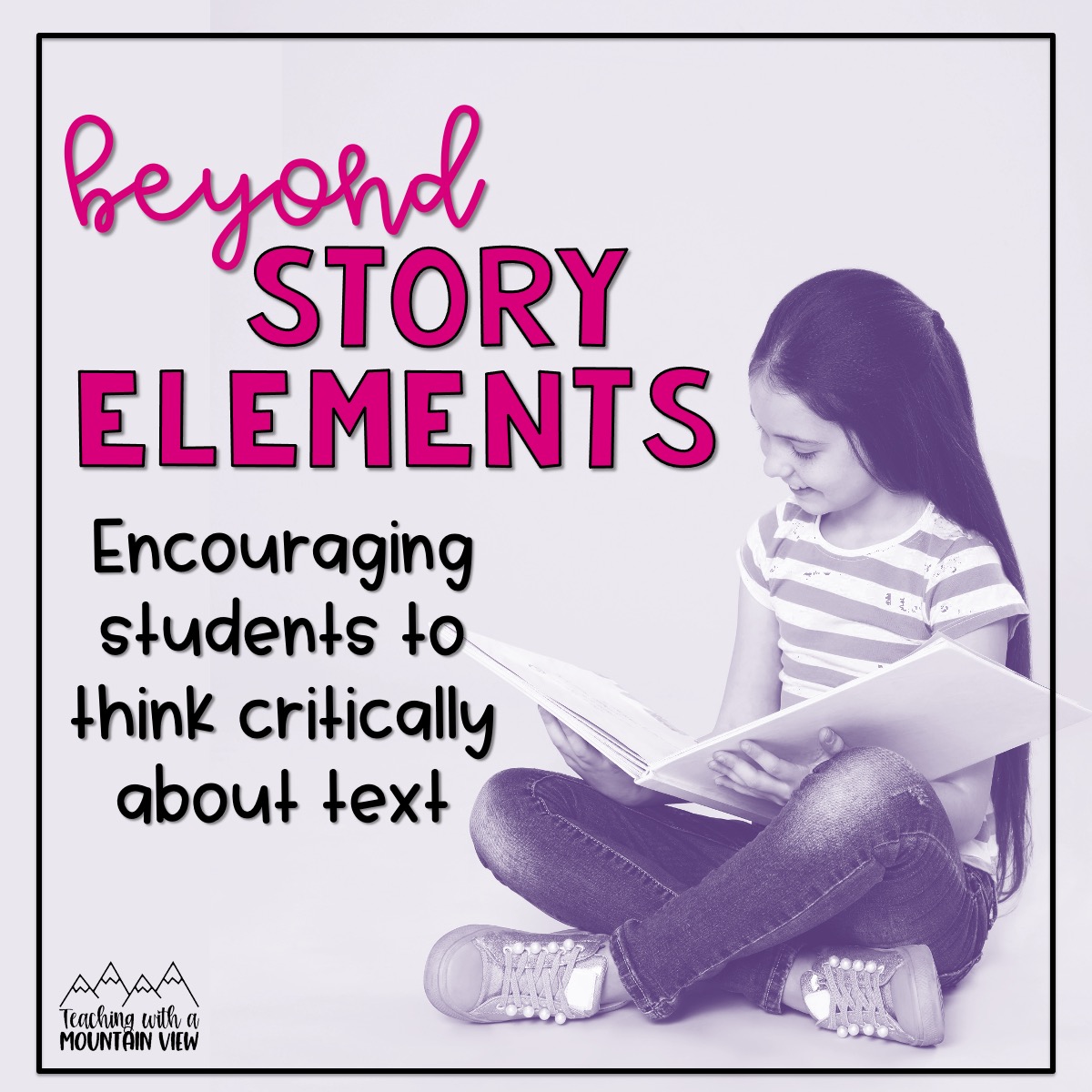 Teaching and analyzing story elements is a critical part of developing students' comprehension skills. You probably talk about the setting, the characters, the problem and solution, and eventually the theme. I've talked before about the importance of teaching students to identify and interpret story elements, which you can read HERE. But how can we take a basic reading of a text and make it truly dynamic and meaningful, especially in the upper grades?
Here are four ways to bring your reading to the next level and encourage students to think critically about elements of the text.
#1 Go Beyond the Basics of Setting
We all know talking about the setting of a text is important. If you tell me a story based in 2020 New York vs. 2020 South Dakota or even 1910 New York, you're talking about two very different worlds! The differences in setting — both time and place — are a critical part of analyzing stories. Help your students think critically about the setting of the text by talking about what it's like to live there, what makes it unique, and ultimately, how the time period (or time of year) impacts the story and how it's told.
This is a great time for your students to dive deeper into a setting other than one they are familiar with and incorporate the study of other cultures into your classroom. I almost ALWAYS print out relevant pictures for students to study before we begin a novel… this helps them learn (and infer) so much about the setting, the characters, etc. I do this for both fictional and informational books.
Further, I LOVE doing a sort of positive and negative words to describe a setting. You can see how we did it here!
Go Deeper Questions for Setting:
How does the setting impact the way the story is told?
How would the story be different if the setting were changed?
Why do you think the author chose this particular setting?
About how much time passes from the beginning to the end of the story?
#2 Dive into Characters' Lives
Talking about characters being static and dynamic is one thing, but every character has a past, a present, and a future that drives them in one way or another. Talk about WHO characters are by assigning each group a specific character to follow and analyze their actions. Using graphic organizers or reading journals, you can have your students talk about the characters' motivations, goals, strengths, and weaknesses. This post has more examples for studying characters or this post has a free character project that works with any novel. Then you help them analyze the text even deeper by having them draw out and analyze important quotes for their character.
When your students get to know the characters better, they have a more critical eye for the antagonist and the protagonist as well as their motivations. They can also see what motivates the antagonist and may even see the protagonist isn't always a good person.
Go Deeper Questions for Characters:
Analyze the differences in the actions between the protagonist and the antagonist.
What is the general mood of the main characters?
How would the story be different if it were told from a different character's point of view?
Imagine what parts of the main characters' lives are left out of the story. What inferences can you make about them?
How did the main character's traits, actions, and motivations impact the way they solved the main problem in the story?
What conflicts (aside from the main conflict) arise that give you a glimpse into the character's traits?
To really help your students go deeper with character study, this Character Study Task Card Bundle has 140 differentiated character study task cards. The cards in this bundle cover character traits using both text and pictures, character feelings, inferring character traits, how and why characters change over time, and character conflict.
#3 Analyze the Theme, Topic, and Central Idea
I have blogged extensively about teaching theme and comparing the theme to the main idea of a story, which you can view HERE. There's so much more we can do with theme, though!
When students identify the theme of a story, it's important to make it count. Challenge your students to explain how they know what the theme is and how they can apply it to their own lives. To go even deeper, challenge groups of students to find a song, poem, movie, or story that also exemplifies that theme. This helps students see the purpose behind the work of finding a theme in the text, and it can be great for character building as well.
Go Deeper Questions for Theme:
Identify passages that exemplify the theme.
Are there any passages or characters that don't match the theme of the story as a whole?
Consider how the theme would have changed if a character's traits or actions were different.
How does the theme of the story help you determine the author's purpose?
#4 Connect the Dots to Make Meaning of Story Elements
One way to get more out of a story is to make connections between the theme, characters, and plot of a story.
Of course, I always have my students make text-to-self, text-to-text, and text-to-world connections. When we make connections, we are always specific and ALWAYS explain HOW the two different pieces are connected. By making connections, you help students get a better idea as to what they are talking about because they connect with something they already understand. I take this further by having students make connections between the characters in the story and the theme, the setting of the story and the character's actions, etc.
Go Deeper Tasks for Making Connections:
Connect the story to another story you've read. Compare the themes, characters, settings, etc.
How are the characters' traits and actions connected to the theme/setting/plot of the story?
Tie It All Together
Your students will absolutely love this story elements flipbook, and you will love the rigor it provides! On the right-hand side of each section, there is a carefully crafted, high-interest story that unfolds over the course of five parts. Within each part of the story, there is a specific set of story elements. They each have their own problem/solution, setting, etc.
On the left side of each section of the flipbook, students identify the story elements from the specific story section they are reading and answer three story elements-based questions.
All five parts go together to tell one long tale. Students should complete the entire resource over the course of several days.
For more practice, these story elements reading response task cards work with any book and are perfect for small groups, guided instruction, or independent work to review story elements.
Mary Montero
I'm so glad you are here. I'm a current gifted and talented teacher in a small town in Colorado, and I've been in education since 2009. My passion (other than my family and cookies) is for making teachers' lives easier and classrooms more engaging.