Figurative Language Review
By Mary Montero
I have been trying to write this post for two weeks now!  Between home, school and a few new resources I have been working on, I haven't had a spare second.  So, here's what we did for our figurative language review.  I'm going to let the pictures do most of the talking. I had two class periods for figurative language before state testing.  We had done several activities with it last year, and I have the same kids this year, but we really needed to work on interpreting it and using context clues to understand it.
First, we made an anchor chart. The kids LOVED coming up with their own examples in the orange column. Some of them stretch it a little bit, but I just love including student examples on anchor charts.
Here's an updated anchor chart to go with an activity that I blogged about HERE
Then the kids made a foldable from Lovin' Lit's INB Resources.
Figurative Language Sorts
This year, I grabbed some pictures and wrote a few quick sentences that used figurative language to describe what was happening. They had to sort the figurative language by type, and generate some of their own to describe the picture as well. I only included Similes, Metaphors, Hyperbole, and Personification in the sort.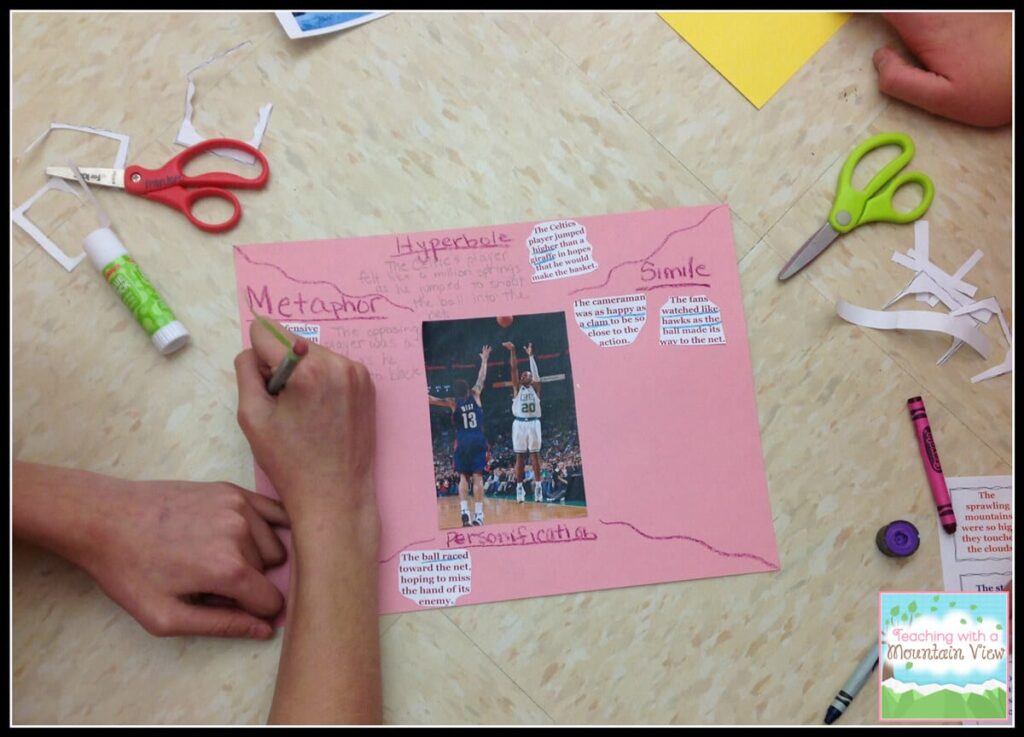 Here are links to each of the pictures to use in your classroom. It is my understanding that it's okay to use them in your own classroom under the Fair Use rules. If I'm wrong, someone let me know, and I'll take the links down! 🙂
Mountain Climbers
Snow Storm Bus Stop
Basketball Game
Monkeys at the Zoo
Here are the sentences I threw together in about 5 minutes that go along with the pictures. You can download them free HERE! I recently added a little printable mat to glue the pictures on, too. Download it HERE.
Using Pictures To Teach Figurative Language
*Update: I have also started using these sheets to have students practice and perfect their figurative language skills! It's a great way to scaffold, moving from pictures (like they practiced above) to more complex skills of identifying and creating their own figurative language. You can grab these Figurative Language with Pictures sheets HERE!
Figurative Language Flipbook
This digital or printable flipbook helps students review the seven types of figurative language through the use of stories and images. On the left side of each section of the flipbook, students review the definition of the specific type of figurative language and complete a brief activity using pictures and sentences. On the right-hand side of each section, there is a carefully crafted story that uses each of the specific types of figurative language. Within the story, students must identify as many examples of the figurative language as possible… HERE IS THE REALLY FUN PART! All five of the stories go together to tell one long tale. Students should complete the entire resource over the course of several days.
Figurative Language Task Cards
Finally, I had the kids sit in a circle and we passed figurative language review task cards around the circle. Two kids shared theirs, explained what they thought the simile or metaphor meant, passed their cards down two spaces, and then got new cards. It was a fun, fast way to do a little bit more review. The cards also have another set that doesn't have the figurative language underlined, which is actually the set we used!
If you need more figurative language resources, the review task cards are also included in this larger Simile and Metaphors Activity Pack.
If you're like me and can never have enough task cards, students also love the personification, onomatopoeia, or hyperbole task card sets!
Free Seasonal Task Cards
You can download a FREE bundle of seasonal figurative language task cards below. It includes a set for back to school, Halloween, and Christmas.
Happy Teaching! 🙂
Mary Montero
I'm so glad you are here. I'm a current gifted and talented teacher in a small town in Colorado, and I've been in education since 2009. My passion (other than my family and cookies) is for making teachers' lives easier and classrooms more engaging.