Analyzing Firsthand and Secondhand Accounts
By Mary Montero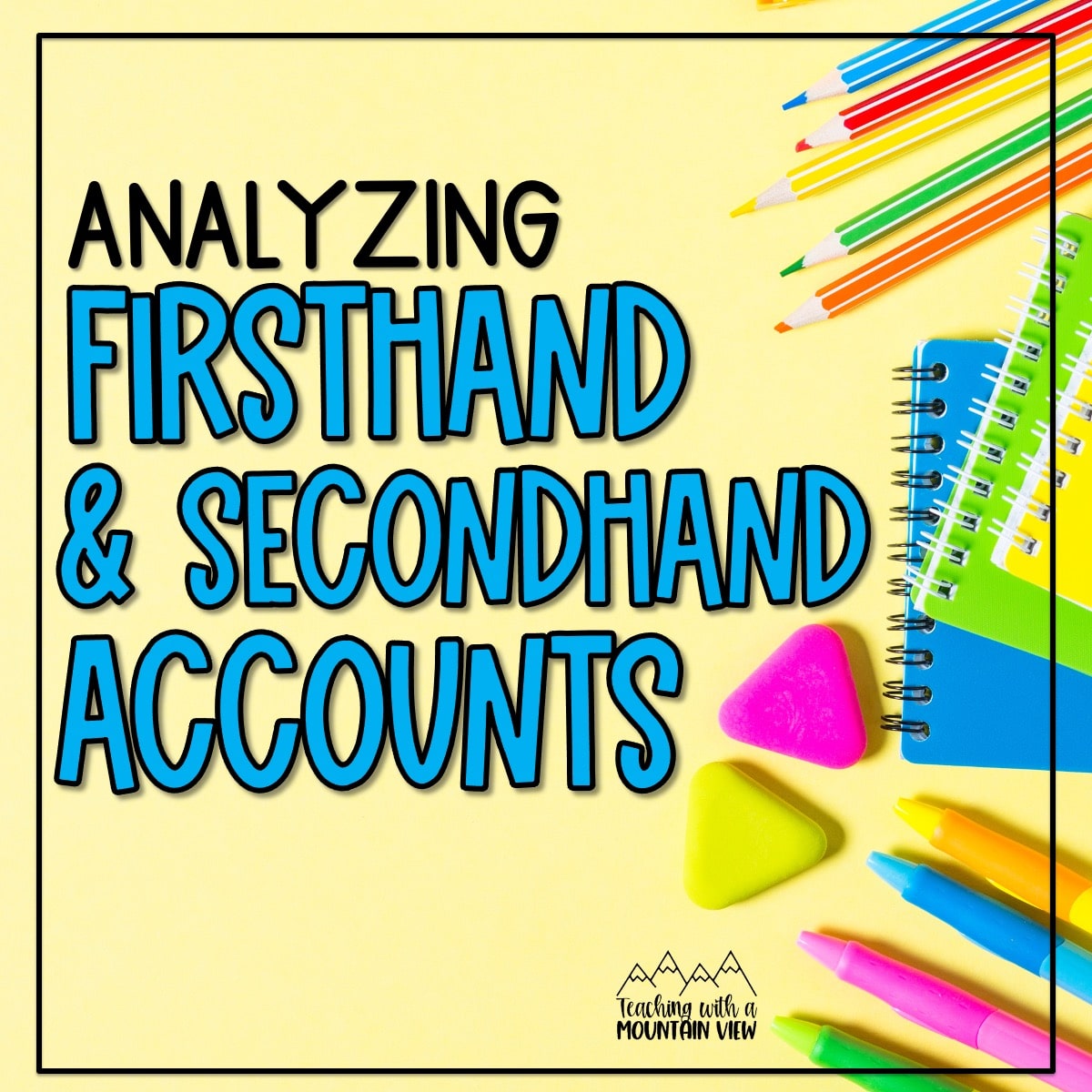 CCSS.ELA-LITERACY.RI.4.6: Compare and contrast a firsthand and secondhand account of the same event or topic; describe the differences in focus and the information provided.
I'm not going to lie. This was a scary standard for me to tackle. It's one of those that you Google, and almost nothing comes up. Sure, pulling out nonfiction resources is fairly simple if you have a great library, but not much exists to explicitly teach this skill. And this is a skill that needs explicit teaching! The Common Core not only asks us to teach point of view, but they definitely want us to take it a step or two further… and this skill is definitely taking it further!
Here's how I teach students to thoughtfully analyze firsthand and secondhand accounts.
Start With Passages
We start with high-interest passages. My students LOVE learning about European Explorers, so I pulled some primary sources from my English major days. Here are the excerpts I use to introduce firsthand accounts. They aren't fancy, and they absolutely require discussion and some explanation on your part, but they always hook my students. You can download these free Firsthand Accounts of European Explorers HERE.
I read these aloud to students while they silently read along. We talk about the information we can get from these accounts, and how an encyclopedia might give us different information. We also discuss how the extra information I included on the sheets (to help give them background information) changes or alters their view of the firsthand account. I explain that the extra information I give is technically a secondhand account, or a secondhand source. They almost immediately understand the difference.
Firsthand and Secondhand Account Anchor Chart and Foldable
Here's a look at the anchor chart I create with students and reference throughout our study.
What would a lesson be without something in their interactive notebooks!? After creating the anchor chart above, they put that same information into their notebooks. You can download my free firsthand and secondhand account template HERE.
Firsthand and Secondhand Accounts Task Cards
I LOVE using task cards in interactive notebooks. It's a great way to provide proof of learning. I created these Analyzing Firsthand and Secondhand Account Task Cards, and I am so excited about them! Each of the sixteen cards has two different accounts of the same event. One is a firsthand account and one is a secondhand account. I have also included guiding questions to help students firmly grasp the goals of the standard. The questions help students compare and contrast the two accounts, understand how the focus is different depending on the source, and discern the differences in the information provided.
Complete several of the cards together, first. Annotate the cards as you would a close reading resource (Did you know that almost ALL of my half-page reading task cards are perfect for close reading?) and dissect them well.
The students can then glue one of the task cards into their notebook and answer the guiding questions using the individual student question prompt sheet. The resource also includes a recording sheet if you don't use interactive notebooks. After we have completed the task cards together and in the notebook, they are perfect for small groups and to put in your literacy centers, too!
Do you have any other ideas for teaching this tough skill? Please share them in the comments or our FREE Inspired in Upper Elementary Facebook group.

Working on other reading skills? Here are more great reading posts!
Mary Montero
I'm so glad you are here. I'm a current gifted and talented teacher in a small town in Colorado, and I've been in education since 2009. My passion (other than my family and cookies) is for making teachers' lives easier and classrooms more engaging.