Teaching Cause and Effect in Upper Elementary
By Mary Montero
Upper elementary students have a lot of experience with cause and effect, but that doesn't mean you can skip this skill! Here are some ideas for doing more when teaching cause and effect that I used with rather high 5th graders who already had a pretty decent understanding of the basics. Here is what we did.
Teaching Cause and Effect Anchor Chart
Since my students already knew what cause and effect was, we did a very brief cause and effect interactive notebook journal entry with just two tabs and a short definition. Update 2018: You know my love for anchor charts runs deep, so over the years I have added an anchor chart into my lessons! I loved making this cause and effect anchor chart interactive…
You can see more information about the chain at the bottom of this post. I have also blogged extensively about teaching reading skills with pictures, which you also see here! Then I listed some events and used sticky notes to come up with causes and effects of those events. It was such a great way to introduce and review this skill.
Interactive Notebooks
Then came the fun part–song lyrics! Now, before I go on, I have to give my dad total credit for coming up with this song! Do you know how hard it is to find a song that tells a story and is appropriate for elementary school kids? It's not an easy task!
We ended up using Hello Muddha, Hello Faddah, the old camp song by Allan Sherman. You can download a copy of the lyrics I used HERE. The kids got such a kick out of this song, and it's pretty harmless. You could even let them listen to it a few times. We had a great time looking for and generating cause and effect relationships. I loved using the song because not only were we finding explicitly stated cause and effect relationships, but we had to do some inference as well.
After we pulled out as many cause and effect relationships as we could and annotated the paper (a little bit like we would with a close reading passage), we turned it into a foldable in our interactive notebook. You can see the outside of it here, and on the inside we wrote the effect. This challenged their thinking a bit because some of the annotations we made were written with the effect first and the cause second. It was perfect to get them thinking about the different formats of cause and effect!
My students are very comfortable using pictures to practice reading skills, so I had them use their left side to find cause and effect relationships in a picture. This is always a hit! If you would like to download the templates we used for the right hand side of the notebook as well as the picture we used for the left hand side, you can do so HERE.
Teaching Cause and Effect Activities
After we went through the review, I had a pile of about 20 books (Amazon affiliate link) for students to read and write out cause and effect relationships. You can truly use just about any book for this, but here are a few of my favorites after seeing them in action with kids.
Task Cards
Next, I used my Generating Cause and Effect Task Cards for their cause and effect interactive component. I printed out the task cards at 50% their original size and gave each student four to glue in their notebooks. They wrote the cause and effect relationships and shared with a neighbor. I LOVE using task cards in interactive notebooks this way!
Paper Chains
I wanted to throw in a super engaging "competition" element to this lesson, so I had them create cause and effect chains. I gave each partner group a small strip of paper that had an event on it. Then, they had to create chain reaction cause and effect stories based on the event. This was really challenging because they had to create a CAUSE and EFFECT for the event, and then go backwards to create the story. Basically, the event I gave them had to end up in the middle of the chain, with events leading up to it, and events following it. I only gave them 15 minutes to do as much as they could, and they had a blast!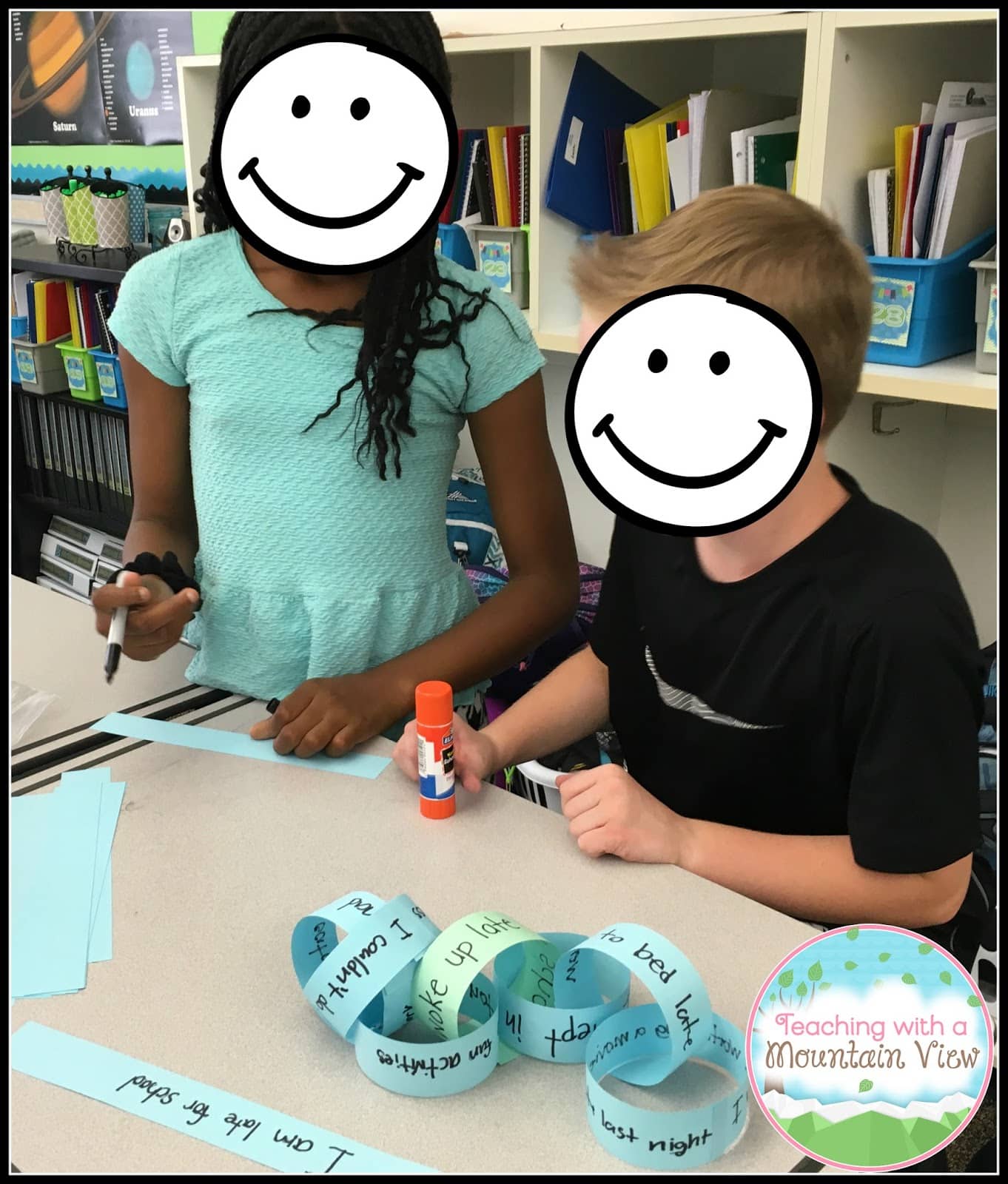 More In-Depth Cause and Effect Practice
After that we used quite a few activities from this cause and effect bundle!
Our next step was to apply these skills to deeper texts. We used my cause and effect paragraph task cards to practice the skills! It was a beautiful day, so I took the students outside, and spread the cards out all over one area. I mixed them all up so that they would have to move around to find their next card. They LOVED this!
Leveled passages help students apply critical thinking to their cause and effect reading practice with high-interest topics. Each text has seven cause and effect texts in three different levels with corresponding comprehension activities. This makes them perfect for differentiation!
If you need a little more practice, this text structures flip book set includes cause and effect as well as other key reading structures.
Share With Us!
Do you have any great cause and effect activities to share? Come share them with us in our FREE Inspired in Upper Elementary Facebook group!
Mary Montero
I'm so glad you are here. I'm a current gifted and talented teacher in a small town in Colorado, and I've been in education since 2009. My passion (other than my family and cookies) is for making teachers' lives easier and classrooms more engaging.