The Great Big Collection of Test Prep Resources
By Mary Montero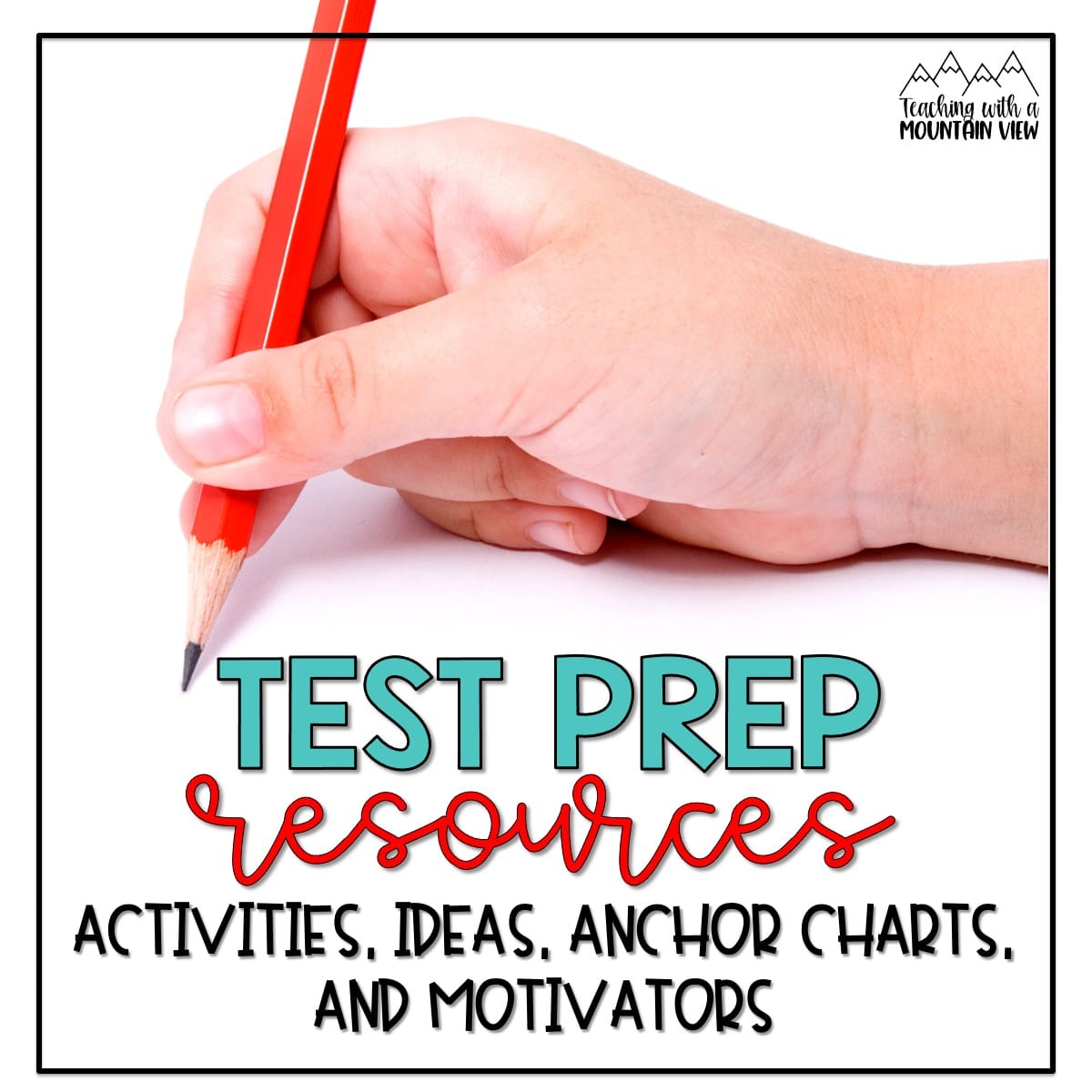 It's that time of year…whether you dread it or just deal with it (or do a little bit of both), state testing time will be here before you know it. Let's face it–nobody looks forward to administering hours of tests, and there is absolutely some valid controversy surrounding standardized tests. However, for many of us, it is a fact of life, and something that we need to prepare our students for. I took some time to curate a collection of some of my favorite blog posts and resources to help you and your students get ready for the big tests. I hope you can pick up an idea or two from these test prep resources!
Test Prep Resources, Ideas, and Activities
If you're looking for a solid way to review ALL of the math standards, this test prep math project is perfect! There is one for 4th grade standards and one for 5th grade standards, and every single standard is reviewed. I usually put them in stations, and kids have a blast! The projects are school-themed, so you can even take them around the school to complete them– outside at recess, in the lunch room, etc. to make it a little bit more exciting! You can find the 4th Grade Test Prep Math Project here or the 5th-6th Grade Test Prep Math Project here.
Try Test Prep Rotations from Teaching in Room 6! She has six different stations that the students rotate through. Great rotation examples!
Stinky Feet! How super fun is this game, and everyone is always into it because they never know who gets the sticky note with what value on it. So much fun!
Using this fun multiple choice foldable is a great idea for keeping kids engaged! You can put a passage and a question on the board and quickly see who got the answer right.
How about this super motivating ticket system from the Diary of a Not So Wimpy Teacher? She checks each answer as the students work, and if they get it right, they get a ticket. Not only does it motivate them, but it also helps you to see which kids are missing which problems and intervene immediately.
Test prep tips using student names! They each write an acrostic with excellent advice for doing well on the test. The text in this example reads: Get a good nights sleep. Read the questions very carefully. Always eat a good breakfast. Come to school on time. Influence others to do good. Encourage yourself to do good. (Source Unknown)
This is a blog post I made after doing a big rotation with my students using task cards! it explains how my students use a passport to work on concepts and prepare for the tests! If you need task cards, look no further! I have hundreds of sets of task cards HERE.
Test prep graffiti style from Jennifer at Teaching to Inspire in 5th! I love how she adapted this popular activity to make it into a test prep activity.
A huge part of taking a standardized test is understanding what is being asked and being able to read the questions. Preparing students for the vocabulary they will find in state tests is crucial to their success. Grab this freebie from The Science Penguin and see how she prepares her students by explicitly teaching test prep vocabulary.
How many times have we told students to PUT THE QUESTION IN THE ANSWER!? This blog post has tips for teaching students to restate the question.
When I originally created these spring themed task cards, it was not with the intent of using them as test prep task cards, but simply to review all of the standards in the springtime. After I started using them, I realized they were the perfect way to prepare for tests and see which students needed extra remediation in which areas! Each Math Review Test Prep packet covers ALL math standards for the grade and includes versions for 3rd, 4th, and 5th grades.
Jen from Runde's Room came out with this great four corners sticky note activity for test prep! She has some other great ideas in this blog post as well.
We made these Types of Comprehension Questions foldables in my class last year just days before test prep. My students benefited so much from reviewing each of these and talking about identifying characteristics of each type of question.
Students LOVE Jeopardy type quiz shows, and they are the perfect way to review and prep for tests! Here is my take on them, and I use pre made task cards to make it easy for you! These reading skills task cards are perfect to use, but you can adapt this game to just about ANY topic.
A test prep olympics! Wow! What an engaging, fun, and meaningful idea to get kids really into preparing for tests without knowing just how much work they are doing. You could do this with task cards, too!
Test Prep Anchor Charts
This is something that could easily hang in a room all year long, but I particularly like it to prepare children for the types of questions they might find on a standardized test.
Here is a wonderful anchor chart for test prep! You can apply this to any subject areas, and it will remind your students to relax a little bit. This blog post also has a great post explaining the different levels of proficiency on state assessments.
This test taking tips anchor chart from Scholastic Teacher Kristy Mall would be extremely beneficial to create together. You could absolutely have your own ideas that need to show up on the chart, but also let students add their own!
I ADORE this test prep anchor chart, particularly for students who have never taken a standardized test. It answers their questions and calms many fears.
I love this anchor chart to go right along with the rumors anchor chart…if students get stuck, they need to have a plan of action other than selecting a random answer. Here is a great one to walk through with your students before testing begins!
I like this reading test prep anchor chart because students should be figuring out whether something is fiction or nonfiction RIGHT AWAY. Then they can narrow down some of the questions by paying close attention to these key details…
What kid doesn't love video games? They could each have their own video game controller and show that they are in control of the test!
If you haven't already begun teaching your students strategies for problem solving, now is definitely the time to do it. Students really latch on to strategies like CUBES because they can remember it and walk through the steps each time a problem shows up on the state tests. This is a great post that explains it!
Test Prep Motivators
How sweet is this acrostic with Smarties?
How much would your kids LOVE this assessment survival bag!? Easy to have a parent volunteer put together, and guaranteed to bring a smile to your students' faces.
I love Tessa's treats for each day of the week of testing! She has the labels for free on her blog, too!
SO incredibly cute. (Source unknown. If it's yours, please let me know!)
I know that kids would just love seeing these good luck wishes as they came in on testing days.
And finally, one of my favorite ways to motivate students… Assign parents "top secret" homework the week before state testing. Their homework is to secretly send in a letter of encouragement to be given to their child before they start! Great idea! Parents are a child's biggest fan!
More Test Prep Resources
This test prep blog post has even more ideas to help your students review key content.
If you need even more assessment ideas, pop over to my Pinterest board for tons of test prep resources and ideas!
Do you have any great ideas for test prep resources? Please feel free to share them in the comments or send me an email so that I can add them to this list!
Mary Montero
I'm so glad you are here. I'm a current gifted and talented teacher in a small town in Colorado, and I've been in education since 2009. My passion (other than my family and cookies) is for making teachers' lives easier and classrooms more engaging.