School-Wide Events: Fun and Educational Ideas to Build School Spirit
By Mary Montero
One of the most popular committees at our school is the school-wide events team, which plans activities that are fun for students, families, staff, and even the larger community. These events are used as incentives, academic boosters, fundraisers, etc. I absolutely love seeing school communities come together, so I hope this list helps you think of fun new school-wide events beyond the typical movie/pizza party!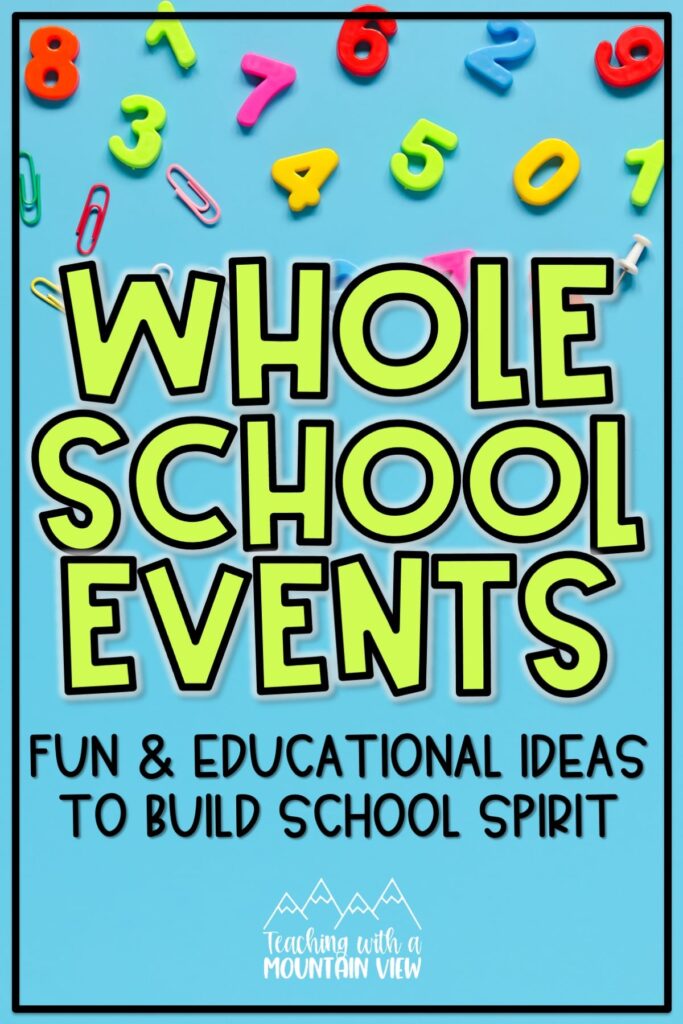 Educational School-Wide Events
Mix up learning with themed educational days that are perfect for individual grade levels or the entire school.
STEM Day: Teachers work in teams to host a STEM activity and then students rotate through centers during the day. This is great way to take advantage of specific teachers' strengths to benefit the whole school. We have also done a Math fair, where we have stations for math games, books, etc. Parents LOVE these!
Hobby Day (sometimes called Enrichment Day): Teachers, staff, and even upper elementary students sign up to teach a session on their favorite hobby. Then everyone in the school (even teachers!) sign up to learn something new. Topics like coding, jewelry making, origami, gardening, musical instruments, etc. have all been popular. You'll be amazed at the talents hiding right inside your school.
Buddy Day: Upper elementary classes are paired with lower elementary classes, as well as special adults in the building to help facilitate small groups within each classroom. Each month, special activities are planned for that day. Students can read stories to each, complete a craft, share a snack, etc.
Community School-Wide Events
Community events make great fundraisers because you can sell admission tickets and/or charge for activities and snacks during the events.
BINGO for Books: Invite the community to a BINGO night where the prizes are all books. Ask for book donations (new and gently used) from local businesses, churches, etc.
School Carnival: Turn each classroom into a themed carnival game. Challenge classes to a "door decorating" contest to help decorate each room before the event.
Food Trucks: Invite local food trucks to the school parking lot one evening or weekend. A portion of all sales goes back to the school.
Healthy Living Fairs: We had an awesome company that sponsored this event, but you could definitely put it together yourself! The whole school participates, and it's like field day, BUT BETTER! Different classrooms can have different fitness classes (Zumba was always a friend), healthy living sessions, a jump rope marathon, a dance party, etc. This was always one of our favorite days.
Incentive School-Wide Events
it really helps build community when classes, grade levels, or even the entire school works toward a common goal. Then a fun event is held to celebrate the goal being met.
Teacher Plunge: Students earn chances to soak staff members in the dunk tank or toss water balloons at them.
Kiss the Pig: This one is especially fun when the pig belongs to a student!
Staff Makeover: Your staff members will be looking extra fancy after these makeovers performed by students
Pie in the Face: Plan this one at the end of the day!
Sticky Wall: Students earn strips of tape and work as a team to tape an adult to the wall while the adult stands on a chair. Then the chair is removed and the adult is stuck.
Dance Party: Turn up the music and have a dance party. You earn bonus points for making it a glow theme!
Treat Cart: The principal visits a special class/grade level with a rolling treat cart. The cart might have candy, stickers/erasers, popsicles, hot cocoa, etc.
Staff Events
Simple staff activities are perfect school-wide events that build community and help teachers (and staff!!) feel appreciated. The key here is FUN and not just something extra on your plates.
Egg Hunt: Principals stuff eggs with things like jean days, duty coverage, read to your class, etc. There can also be silly "rotten" eggs with funny prizes, like having to wear bunny ears on the last day of school before Easter. This could easily be modified for other seasons too, not just eggs.
Secret Buddy: Draw names out of a hat to pair teachers up for the month. Everyone who wants to participate completes a question sheet with their favorite color, snack, school supply, etc. Then they drop off small gifts for each other, with the goal of not being caught so partners stay a mystery until the end.
Staff Games: One school had a "Survivor" competition and matching staff shirts made in team colors. Teams were made up of members across different parts of the school to build relationships outside of immediate teams. The best part was that teachers could substitute a student to compete in their place during any of the events. Some examples were a free-throw competition, eating competition, photo taken at the highest elevation during the competition, etc. "Amazing Race" would be another fun theme! "Minute To Win It" style competitions are also fun for this.
Want More Ideas?
Love these ideas for school-wide events? Be sure to join our FREE Inspired In Upper Elementary Facebook group, where we're always brainstorming ways to make learning (and teaching!) more engaging and fun.
Mary Montero
I'm so glad you are here. I'm a current gifted and talented teacher in a small town in Colorado, and I've been in education since 2009. My passion (other than my family and cookies) is for making teachers' lives easier and classrooms more engaging.