Perimeter and Area
By Mary Montero
We finished our perimeter and area unit several weeks ago (right before fractions!), but I never got around to posting some of the engaging activities we did. This was really a review for my kids, so it was fun to pull out some of the more inquiry-based activities and watch them go to town. Before we began our perimeter and area unit this year, I sent out this little teaser to my students via ClassDojo…
They spotted the hard hats and were hooked! They couldn't wait to come to school and see what we were going to be doing with those hard hats.
Perimeter and Area Anchor Charts
It was a few days before we could really dive in, so we started our review by making this perimeter and area anchor chart. We needed to review how to find perimeter and area of both regular irregular shapes, which is why there are two examples.
You can also take your area and perimeter lesson to the next level with these DIFFERENTIATED area and perimeter skills flipbooks. Your students will absolutely love these engaging area, perimeter, and volume lessons, and you will love the teaching, skill reinforcement, and engaging practice these flipbooks provide. Each flipbook acts as a mini area and perimeter interactive notebook, ready for your math lesson! The left hand side of each skill helps to TEACH the focus skill, acting as a mini anchor chart that students interact with and complete. On the right hand side, students engage in practicing their area, perimeter, and volume skills in multiple different ways.
Perimeter and Area Book Tie-In Lesson
Then we did one of my all time favorite perimeter and area lessons. I LOVE it! We use Spaghetti and Meatballs for All by Marilyn Burns (Click the title to see my affiliate link on Amazon!). The book is all about how a family has a big spaghetti dinner and has to figure out how to seat all of the people invited with only 2 chairs. They try several different arrangements in the hilarious story, and all along the way, we chart the seating arrangements and compare the area and perimeter. The kids all have 8 tiles (the amount of tables they have) that they can manipulate as we read the story and then record it on our paper. There is a great free lesson at Beacon Learning (click here) that walks you through teaching it and also provides you with a worksheet similar to my anchor chart above. I have used this lesson with kids in grades 3-5, and I've never had a kid NOT love it and learn something from it. By the end, they are YELLING at the characters in the story trying to tell them how to arrange the chairs. Talk about engagement! The book also has great extension activities. At the end, I always ask my students to figure out how they could seat 12, 16, 24, etc. people, and they enjoy that part, too.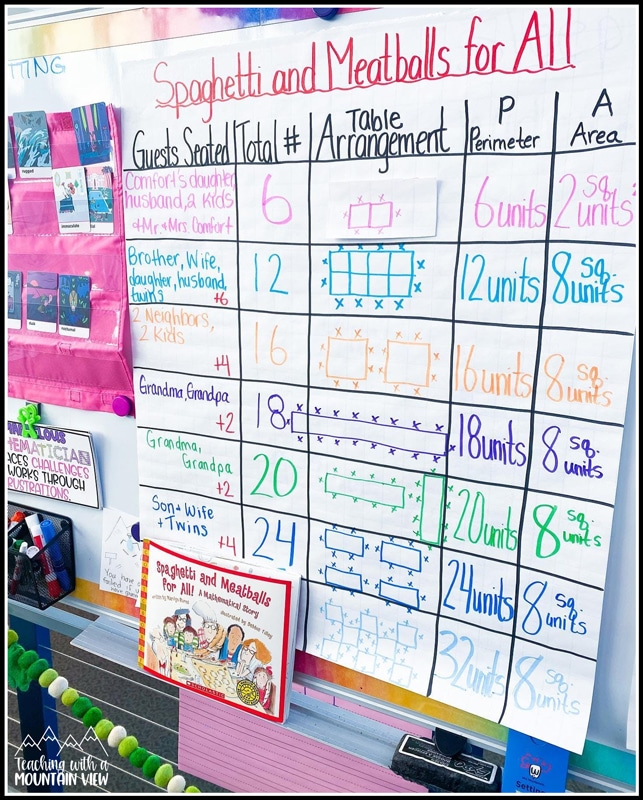 Perimeter and Area Math Project
Since this is such a great real-life concept to apply this skill to, I keep it going with my perimeter and area math project.
In this perimeter and area math project, the students have to build their own city. They start by laying it all out, then they "zoom in" on the buildings in separate guided tasks. I LOVE it! This is where the hard hats came into play! This year, I decided to get them all hard hats from Oriental Trading, since they are tasked with being city planners. They were over the moon about these little hats and the project, and we had a blast with it.
This same project also includes a DIGITAL VERSION for more flexibility.
More Perimeter and Area Practice
Irregular Shapes
This index card activity is another one of my favorite activities for the older kiddos. I think I originally got some version of this idea from a Mailbox Tips magazine and then have adapted it over the years to meet my needs. It hits on so much…the relationship between area and perimeter, finding missing measurements, additive area, etc. And it's so easy… just whip out some index cards for groups of kids and have them find different combinations of cards to make different shapes. I require that one of the shapes by width to width and one of the shapes be length to length, and then the rest they get to configure any way they want. In the end, they realize that even if shapes have the same area, they can have a different perimeter. Again…this is a VERY valuable lesson when trying to teach missing measurement and area of irregular shapes. They know that every index card is a 3×5, so no matter (almost) how they put it together, they should be able to figure out all of the side lengths. I can't recommend this activity enough.
I also blogged about using pentominoes to teach area and perimeter. This is another great hands-on lesson for this skill, especially if you are tackling area and perimeter of irregular shapes! You can read more about this activity and perimeter and area of irregular shapes here.
Topple Blocks
Using these colorful Topple Blocks is another engaging way to practice perimeter and area skills. Each colored block has six questions. When a student pulls a certain color, their entire team must answer a question that corresponds to the color. So fun!
Candy Math
Who doesn't love Skittles?? You can use this Candy Math Packet to practice perimeter and area, along with dozens of other math skills too! I really like using this as a math center, but it works for test prep or assessments too.
Word Problems
For more practice, these perimeter and area word problems include challenging, multi-step area and perimeter word problems. They are perfect for enrichment and differentiation! These word problem task cards are meant to engage students in meaningful and relevant area and perimeter calculations. They are perfect to use for differentiating for students who have already mastered the basics of area and perimeter and need a little extra push!
For another challenge, your students will need to think critically with these engaging and rigorous area OR perimeter task cards. On each card, students will determine whether they are solving to find the area or perimeter of each problem. This is the perfect way to integrate critical thinking into your upper elementary math lesson. 
Perimeter and Area Assessments
And finally… would any of my math units feel complete without a good ole' set of task cards? Of course not! The kids finished these perimeter and area task cards as their assessment. I even have a few bonus cards in there for students to really show what they know.
I also use this FREE four-page perimeter and area assessment. It covers multiple levels of perimeter and area problems, including finding basic perimeter and area, finding missing side lengths, story problems, and multi-part problems. The answer key is included too.
Bundle and Save
This perimeter and area BUNDLE of activities will help you dig into area and perimeter with seven engaging area and perimeter resources!
Mary Montero
I'm so glad you are here. I'm a current gifted and talented teacher in a small town in Colorado, and I've been in education since 2009. My passion (other than my family and cookies) is for making teachers' lives easier and classrooms more engaging.