How to Teach Poetry in Upper Elementary
By Mary Montero
How do your students react when you mention poetry? If they're anything like mine, you're probably met with groans. Students typically equate poems with sappy sentiments of love and cheesy rhymes. However, poetry can be so much more than that! Here are my best tips and activities for how to teach poetry in upper elementary.
If you're unsure where to start, I like to introduce our poetry unit by relating poems to music. I share popular song lyrics and help students realize that their favorite songs are essentially poems set to music. You can even share a few lines from poems and a few lines from songs and have students try to guess which is which. This is a great way to increase students' interest in poetry at the beginning of your unit.
Why Teach Poetry In Upper Elementary?
Poetry has so many literacy benefits. In addition to learning poetry-specific elements and vocabulary, your students will also improve their figurative language skills, fluency, and more.
Poetry depends largely on fluency and so much of the meaning can be inferred by the way a poem is read. Poems are almost always meant to be read aloud. Where do you pause? Where is the emphasis? Invite different students to read aloud for different interpretations and emphasis, or have each student try re-reading the poem several different ways.
The majority of poems utilize Imaginative and figurative language. Your poetry unit is the perfect time to brush up on similes, metaphors, personification, alliteration, and more. You can read this previous post on how I teach figurative language for more details. Be sure to download the free figurative language sort while you're there. Students also love using highlighters to color code different types of figurative language in poetry!
I also have this huge figurative language bundle on TpT that's perfect for incorporating into your poetry unit.
You can highlight inference and the author's purpose, theme, or mood in your poetry unit, too. Is the author writing to express their feelings? Tell a story? Send a message? What's the overall mood of the piece? You can provide students with copies of poems and ask them to sort the poetry into piles by purpose, theme, or mood.
I use my poetry comprehension pack to dive deeper into understanding poems. It includes original poetry about a range of topics, with different rhythm/rhyme schemes for differentiation. It also uses a variety of figurative language and has opportunities for students to use their inference skills to draw conclusions. These poetry task cards challenge your students to truly think about poems!
This Poem of the Week bundle will help your students to read and comprehend poetry with 40 original poems designed to practice poetry and fluency skills! Each poem is accompanied by thoughtful comprehension tasks. The poems and comprehension questions range in complexity, making it easy to differentiate. A wide variety of figurative language is used, as well as imagery and references that require students to draw conclusions. Finally, you can choose between double-sided booklets or single-page version with additional space for annotating.
Poetry Activities
Of course these activities can be used any time, but if you're planning ahead April is National Poetry Month each year. It culminates with Poem In Your Pocket Day. You can find lesson plans and activities for how to teach poetry from the Academy of American Poets. Amy Ludwig has a fantastic website with original poems and classroom examples. Here's her Poem In Your Pocket Day examples.
Using poems to introduce other topics throughout the year, not just in a poetry unit, will also help your students learn to appreciate this unique genre. You can find free lessons on Poets.org for cross-curricular learning. This social studies lesson or this science lesson are great examples!
There are numerous types of poems, but here are some specific types that I highlight in upper elementary. You can introduce a different type of poem each day, share a few examples, and then challenge students to write and share their own too. At the end of the unit, students can compile their favorites into individual poetry books or contribute to a class poetry album.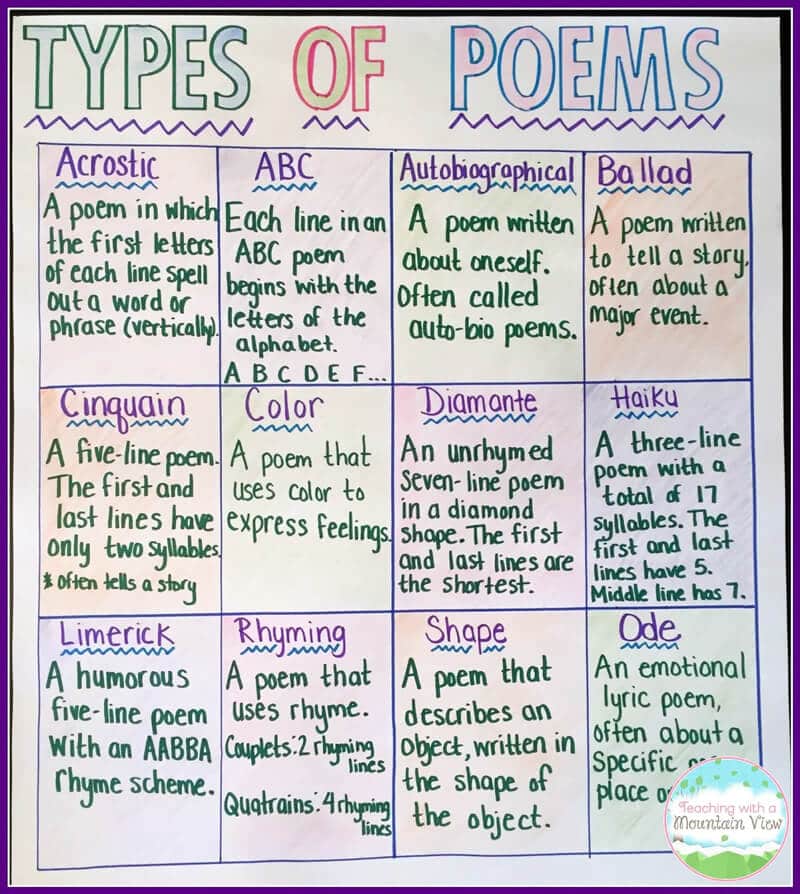 In addition to the poems above, collaborative poetry (sometimes called collective poetry) is another must-do for upper elementary! Collaborative poems are created by multiple authors. You can have students write (or type!) in different colors and take turns writing each line (or stanza) to create one cohesive poem.
Found Poetry is an excellent way to study other authors or take cross-curricular texts and turn them into poems. In Found Poetry, students borrow pieces of text (newspapers, speeches, letters, other poems, etc) and reorder them into poems or collages. You can find free found poem lessons here. This post has examples too.
More Places to Find Poems
Kenn Nesbitt Poetry 4 Kids is packed with funny poems, games, lessons, a rhyming dictionary, videos, and more.
Poets.org has tons of free poems and lesson plans for how to teach poetry too
Amazon affiliate links to some of my favorites:
Mary Montero
I'm so glad you are here. I'm a current gifted and talented teacher in a small town in Colorado, and I've been in education since 2009. My passion (other than my family and cookies) is for making teachers' lives easier and classrooms more engaging.