Going Digital with Student-Led Conferences
By Mary Montero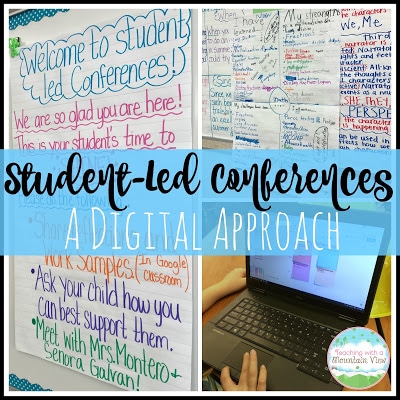 Happy spring! I can't believe how quickly this year is flying by. Before we know it, we'll be prepping for the end of the year. It seems like just yesterday we were gearing up for the beginning of the year. Isn't that always how it goes, though? 🙂
In our school district, spring also means another round of parent-teacher conferences. I've blogged about those before (HERE), but during spring, we are required to implement student-led conferences. We've done this for years and years.
A Brief History of Student-Led Conferences
In the past, we have always done paper versions of student-led conferences. The students end up with a reflection sheet for each subject, for their specials classes, and for their behavior. We spent hours upon hours preparing these sheets. They put them in a folder with a sweet little self-portrait on the front. When their parents arrived on the evening of conferences, they would share their pages with them, then show them a few sample pages from their math journals, learning logs, or writing binders. Students were always pretty proud of themselves, and it worked well!
Moving From Paper to Digital
This year, in 4th grade, we implemented BYOD (Bring Your Own Device) in our classrooms, and we also started using Google Drive as our portfolio systems. We knew that we wanted to ditch the "old" paper way of conducting student-led conferences and use our devices to document our learning. I spent an afternoon converting much of the information from our original paper documents to a fun Google Slide document.  It was met with such great success that I just had to share it!
We started our reflections by working in groups to brainstorm what we have learned, what our strengths are, and what our challenges have been.  We made a chart for each subject (math, writing, reading, science, social studies, and specials). This really got our juices flowing and thinking about all we had done this year so far!
After we had a lot of different ideas on our charts, we were ready to begin working on our own individual reflections.
I used Google Classroom to give each of my students an individual copy of their reflection document. There were several pages of the document, including a page for them to reflect on each subject. In between each reflection page was a Work Sample page. On this page, they could either take pictures of work samples they had created throughout the year (like math journal pages, anchor charts, etc.) or they could include links to items they had created in their Google Drive or on Google Classroom. This is what most students chose to do!
**Note: You can access a copy of the document I used HERE, but please note that it is not editable, and we are an IB school, so all of our behavior reflections use IB Attitudes and the IB Learner Profile. I am sharing the document here so that you can get some ideas. When prompted, click "Make a Copy" and a copy will show up in your Google Drive. This document is copyright 2017 Teaching With a Mountain View, Ltd. and you may not share or sell anything based on this document. Feel free to create your own similar version to use in your personal classroom!
When it was finally time for conferences, they were so proud of the work they had done and parents were so impressed with all of the skills their students were able to cover in such a short period of time. These were definitely the most successful student-led conferences we have had!
During student-led conferences, we allow up to 3 families to be conferencing at once. I usually opt to let my students lead the conference on their own, then sit down with them and chat for 5-10 minutes at the end.
If you've never tried student-led conferences, I can't encourage them enough! They are such a great way for students to take responsibility for their learning and really SHINE!
Mary Montero
I'm so glad you are here. I'm a current gifted and talented teacher in a small town in Colorado, and I've been in education since 2009. My passion (other than my family and cookies) is for making teachers' lives easier and classrooms more engaging.