Making the Leap: Moving from Primary to Upper Elementary
By Mary Montero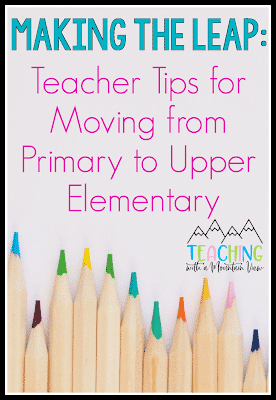 A question that often comes up in my Facebook Group, Inspired in Upper Elementary, is: "Help! I've always been a primary grades teacher, and now I'm moving to the upper elementary grades. What do I need to know?"
When I student taught, I spent half a semester in 5th grade and half a semester in kindergarten. It was jarring moving between 5th grade and kindergarten, to say the least! When I got a job that spring, I was hired for a 3rd-grade position… smack dab in the middle of what I'd been prepared for. Through the years, I have worked with students in all grade levels K-5 in a variety of positions: classroom teacher, interventionist, and gifted coordinator. While it's obvious that each grade level and age level will present its own unique celebrations and challenges, there is a general shift that occurs between the primary and upper grades.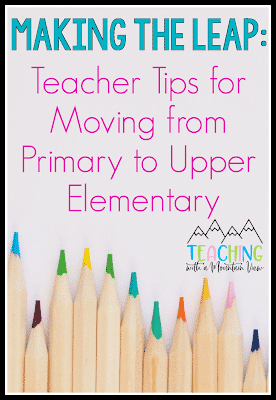 If you are considering or facing a move from primary to upper elementary grades, here are some things to think about to help make it a smooth transition.
Stages of Development Impact Classroom Management and Social Situations
Children in the lower primary grades are truly "littles."
Sticky hands, hugs, and, innocent wondering questions are all a part of the teaching package. As their teacher, you are tasked with teaching them the very foundations of how to be a student. Sure, this includes a ton of academic skills, but also how to listen attentively, how to walk in a line, and how to be a good friend/classmate. Spoiler Alert: You'll still be teaching those same skills in 3rd, 4th, and 5th grade, but you'll need some new tricks up your sleeve. Holding bubbles in your mouth while walking down the hall just won't have the same effect as it did in kinder.
Once students hit 3rd or 4th grade, they are seasoned veterans of school. They know how they should operate within a classroom, and they know the basics of functioning within a classroom community. However, they all need reminders, practice, and reinforcement of appropriate behaviors. (I should also add that for ANY teacher beginning a new school year, it's so important to remember that your expectations may vary widely from their former teacher. Keep this in mind as you embark on a new school year.)
When I welcomed my first group of 3rd graders after having student taught in 5th grade, I thought their three years of school would have prepared them for the basics of studenthood. I gave them way too much freedom far too quickly, and I learned that they still need ample guidance on how to work and learn in a new classroom.
Of course, there's more to the upper grades than just mastering lining up a rowdy group of 10-year-olds for recess. In the upper grades, social relationships get more complicated, and some of their earlier innocence has matured.
Upper Elementary Students
Third graders are sweet as pie, and most are still learning about exercising their independence in a school setting. In third grade, we really focused on developing confidence through a growth mindset and analyzing multiple intelligences and learning styles so that they had a greater self-awareness of themselves as learners. The growth from the beginning of the year third graders to the end of the year third graders is ASTOUNDING. Truly. You will watch them mature before your very eyes. I think third grade is one of the most significant years of change in elementary school.
Fourth graders are still so sweet and kind, and they are becoming much more independent. They are typically starting to function really well in small group settings, and fourth graders have an AMAZING sense of humor. Most third and fourth graders still really love their teachers and school, and they will do just about anything you ask of them. Some will really start to dabble in "big kid" issues toward the end of the year but are usually still receptive to teacher advice and guidance.
By 5th grade (sometimes 4th grade), students are like mini-tweens. I love, love, love 5th graders (can you tell I really love upper elementary kids?). They are funny, independent, and really figuring out who they are are PEOPLE and students. Friendship challenges are common, so building a classroom community and open communication are crucial. Keep an eye on recess-happenings so that you have a good idea of friendship dynamics and any trouble that might be brewing.
Upper grades children are articulate and can do all of those things you used to teach – things like reading and math! Chances are there will be things that you will miss about teaching "littles," but understand there are positive trade-offs you will definitely appreciate (fifth graders know a good corny joke when they hear one!).
Academic Material
Yep. Academics are very different in the upper elementary grades. I know this is a given, but think long and hard about those differences as you embark on this new journey.
In the upper grades, I really find it crucial to let my students explore topics that interest them. At this age, many are finding sports, activities, and topics that they can't get enough of. LEAN into this because this is a way to nearly guarantee engagement. Incorporate student choice as much as you can — it fosters independence, too!
When students enter third grade, they are often transitioning from learning HOW to read to reading TO learn. Oh, this is the BEST time, and one of the reasons I love upper elementary grades so much. While you will definitely still have students who are learning to read, there is so much more you can do with books and text and research in the upper grades, and kids LOVE it. In the upper grades, you get to build on the beautiful foundation that the primary grades laid and really dig deep into those comprehension skills.
(Here is the order in which I teach reading skills in the upper grades!)
Common Core-based standards
Since most of the country is using some form or adaptation of Common Core-based standards, you will probably see similar strands of standards from grade to grade. Take a look at the standards from not only your new grade level but from the previous year as well. You are really lucky to have experience in the grade they have already been through, and you know just what academic skills they already should have. Now you just need to consider how you can extend those skills. Each year presents more intricate levels to learning expectations that can be a big shock if you aren't prepared.
While you're at it, review the district-adopted curriculum for the upper grades. Make sure you grasp the "big picture" scope and sequence and understand the curriculum. Look into online learning platforms for the upper elementary grades, and familiarize yourself with supplemental programs you can use for practice, intervention, and enrichment. Start gathering new resources that you want to use. HERE are all of my resources that I've created for upper grades students.
Who's on your team?
My grade-level teams have always been my rock! You may be leaving a well-oiled team with solid relationships to join a new grade level. Don't be shy about meeting and interfacing with the upper-grade teachers. If there is an opportunity to visit or observe upper-grade classrooms, DO IT! Tap into their professional experience, and feel out the dynamics. As the primary source of support for you during your transition, forming positive professional relationships with the new grade level is critical. I have blogged about fostering relationships with your colleagues before, and you can check it out HERE.
Teacher-supplied Resources
Chances are, if you have been teaching in one classroom for some years, you have built a cozy nest of supplies in addition to the curriculum. Think about what can go with you to a new classroom, and what will not work in a higher grade level. You will be really surprised how easily you can adapt some of your favorite activities and manipulatives to meet the needs of your new grade level. Think pattern blocks are obsolete in the upper grades? No way! I use them to teach fractions in grades 3-5. Can't think of a way to incorporate your favorite picture book into your classroom? There are a MILLION ways! Don't think pictures have a place in your reading instruction? Using Pictures to Teach Reading Skills in the upper grades has changed the way I approach reading skills.
Consider how you will use the classroom library and what types of books you have. Don't be fooled: Upper grades students still LOVE picture books, but you'll also want to provide them with ample chapter book choices, too. How will you update your library?
Testing, Testing, Testing
Nobody can forget this one. Most states start mandated testing in third grade, which signals a huge shift in responsibility for teachers AND students. You must be prepared to fit in some test prep time, ideally seamlessly integrated into your curriculum throughout the year.
Talk to your grade level partners and admin to learn your school philosophy on test prep, make sure you can get through the bulk of your academics before the testing season begins, and mentally prepare yourself for days/weeks of pacing back and forth in your classroom as you proctor. I have been lucky to teach in schools that do not overemphasize test prep, and we almost never actually referred to it as test prep!
The truth of the matter is that effective teaching skills are universal. You may feel nervous or uncertain about tackling the challenge of working with older kids, but take a deep breath. You've got this, and maybe, just maybe, you will find your new grade level to be your favorite one yet! Cultivate a growth mindset and a positive attitude, and you will be ready to take on this positive challenge working with a whole new population of learners!
Looking for even more posts about preparing for a new school year? Here are some of my favorites!
How I Spent my Summer Vacation: Teacher Edition
My First Week of School Lesson Plans
8 Things to Have Prepared Before School Starts
Mary Montero
I'm so glad you are here. I'm a current gifted and talented teacher in a small town in Colorado, and I've been in education since 2009. My passion (other than my family and cookies) is for making teachers' lives easier and classrooms more engaging.