Main Idea Vs. Theme with Song Lyrics
By Mary Montero
Hands down, one of my most popular posts is teaching about Main Idea vs. Theme. Ever since I started teaching the concepts together (in the upper grades), it has completely changed how my students think about and generate their main idea and theme statements. Now, I have one more FREE theme and main idea activity to add to your repertoire that is a perfect whole group or small group addition to my main idea vs. theme task cards!
I have posted before about how I adore using song lyrics to teach specific reading skills. Cause and Effect is definitely one of my favorites to teach with song lyrics, because who can resist that song!? However, there are so many songs that lend themselves so, so well to teaching main idea and theme. If you aren't teaching both at the same time, you can absolutely still use the songs and the ideas here. Just leave out the other skill!
I also wanted to create something that would take things a step further than just simply identifying the main idea and theme of a song or story. As I was thinking of the perfect songs to use for this, I decided to make it a sort of "Paired Passages" activity by comparing the themes and main ideas in two songs. Instead of just identifying the theme and main idea, they are actively drawing comparisons and contrasting the main idea and themes as well.
Low-Prep Main Idea vs. Theme Activity
This is a very easy prep activity. You can get the FREE printables below, so all you need to do is print them out and find the accompanying videos on YouTube. All of the songs I have chosen are from significant moments from popular children's films, so they are all readily accessible and appropriate to watch. Many kids will have seen or at least know the premise of the movies, which is also helpful in doing some more inferring of the themes and main ideas!
I have included multiple activities here and multiple opportunities for students to compare the main idea and theme of different songs that go well together. Choose which you'd set of paired passages you'd like to start with. I like using "Something There" and "I See the Light" to start because the themes are quite evident and the parallels are easy to find. Using "Baby Mine" and "Out There" is a great next step.
Teaching the Main Idea vs. Theme Lesson
I start out by showing the videos for the two songs. I make sure they have a copy of the lyrics in front of them to take any notes (such as speaker/character changes) as they watch. Then we walk through the lyrics step by step, almost like we are completing a close read. This is a bit different, though, because we are really taking note of character actions and how all of the lines fit together to form the main idea and/or theme. Remember that all of these notes are always taken as discussions occur with students, so some may be written in shorthand.
It's so interesting to see the lightbulb moments students have when they are analyzing song lyrics. So often they listen to this music and even memorize the words without realizing what a beautifully woven story the lyrics are telling!
After we have thoroughly analyzed the songs themselves (be sure to incorporate any other reading skills you have already reviewed!) we move into the task of analyzing the main idea and theme. Here's an example of one completed page.  Be sure to reference the notes you took as you did a close read… often your students will have already determined the main idea and theme throughout their notes.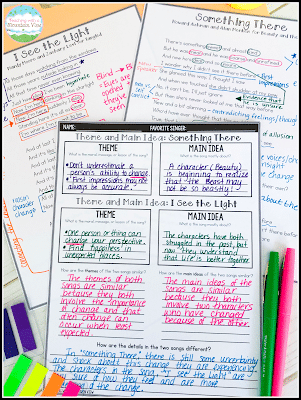 That's it! The whole lesson takes around 30 minutes, and it's so meaningful for students. I often have students bring in their own songs to analyze, too!
Mary Montero
I'm so glad you are here. I'm a current gifted and talented teacher in a small town in Colorado, and I've been in education since 2009. My passion (other than my family and cookies) is for making teachers' lives easier and classrooms more engaging.