3 Parts to an Effective Classroom Morning Routine
By Mary Montero
Having a solid classroom morning routine in place can help you start every day in your classroom on the right foot. A morning routine is more than just getting students ready for the day, it's about building connections, handling housekeeping items, and reviewing skills to maximize student learning.
What needs to be a part of the morning routine?
There are a few morning routine items that I think are a must-have! They help me run my classroom effectively and efficiently. Keep in mind that having a routine for each of these items and dedicated places in your room will make things run a lot smoother.
The good news is once your students get the hang of your morning routine, you won't have to remind them every day (well, sometimes you'll probably still have to remind them). But my students really got the hang of it. My classroom is buzzing with productive tasks and movement each morning!
Here are some must-need items for your morning routine:
Have students sharpen their pencils and gather the supplies they will need for the day (or at least the morning)
Take students' lunch choices
Take attendance
Read and respond to morning message
Have students write in their planners
Check students folders for signed planners
Have a place to put parent notes, permission slips, and lunch money
By knocking out these items in the morning, you can make for more seamless classroom time (no more asking to sharpen pencils 5 minutes into class) and clear your mind to focus on teaching (instead of trying to remember to submit attendance).
Here are the three parts to a morning routine that will help your conquer on the items on your morning to-do list.
Part One: Soft Start
Before class has begun and the first bell has rang, you will likely have students trickling into your room. What do you do with this awkward time? Every classroom morning routine needs a soft start. It's a time for you to handle business, get students ready for the day, and slowly turn on student brains.
When students come in, have a designated procedure and routine for where they will place their items, what they need to get for the day, and how to organize their supplies. This can be as simple as storing their backpack in a cubby and putting their supplies in their desk.
Then have students sharpen their pencils! Have a designated area in the class where students can access a sharpener and get a new pencil, if needed. I like my students to have at least two sharpened pencils because it helps minimize sharpening distractions during class time.
This is a great time for you to check in with students for signed papers, parent notes, permission slips, and lunch money. As you great students and they are getting supplies, take a peak in their folder or ask them if they have anything they need to turnin (especially if you know important papers went out that week).
After supplies are ready, students can work on soft start activities. There are tons of activities you can do during this time, but I recommend making it simple for you to put together. These don't have to be educational, but they certainly can be! Some ideas are:
Brain games such as puzzles, riddles, and rubix cubes
Games like Uno, Jengo, and board games that are easy to set-up in the morning
Building challenges with hashtag blocks and legos
Sensory activities with playdough, model magic, or kinetic sand
Creative tasks like mystery images or drawing
You can even mix and match these activities on a choice board that students complete throughout the week / month
Let's be real… even teachers don't walk into their classroom ready to jump right into teaching sometimes, so students don't always walk in ready to learn. This soft start sets everyone up for success, lets students (and teachers) wake up, and begin the day on a better note.
Part Two: Morning Work
When the first bell rings for class, and the class is all present, it's time to move into morning work. I set the procedure with my students that the bell signifies that it's time to clean up their slow start activities. If you don't have a bell at school, set an alarm on your phone for the official school start time.
After a few minutes of cleaning up, my students are ready for morning work. I highly suggest practicing this transition from slow start to morning work because it will make for a more efficient classroom morning routine.
One of my biggest tips for morning work is making a consistent routine. You don't need the same activity daily, but you need a familiar routine. (Ex. Monday = grammar, Tuesday = word work, etc.) After a few weeks, you shouldn't have to explain the directions anymore. This will help you maximize this time and get the most out of reviewing!
While your students are working, you will have time to take attendance and collect student lunch choices for the day.
Here are a few morning work activities I use with my students.
Skill of the Day
Skill of the Day Journals are my favorite morning work activities and a huge benefit because they consistently spiral and review key skills throughout the year. We all know the feeling in May when a student says, "You never taught me that." These morning work activities keep that from happening.
Each morning students are challenged with a different skill in their subject-specific journals that cover reading, language, and math. The notebooks have the daily prompt or question already made for students, and there is enough material for the entire year. This means you'll never run out of review opportunities. They also have weekly "quick check" assessment options that are perfect for quizzes to consistently monitor progress.
The journal bundles are available for 3rd, 4th, and 5th grades here.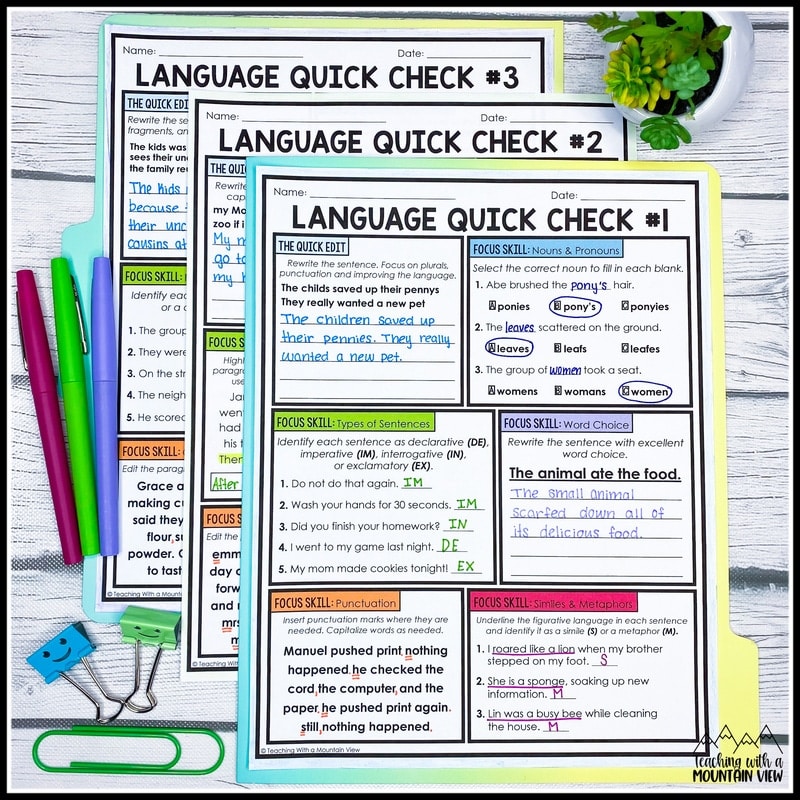 Weekly Letter Writing
I wrote a detailed blog about weekly letter writing, but I wanted to include this activity here as well because it's perfect for morning work. While weekly letters are great for relationship building, they also help students review some fundamental skills: writing and grammar!
Each week I give my students a topic to write about in their letters. I let them know I will be reading them. This might seem like a lot of work, but you'd be surprised how much students will open up in their letters! It's amazing. Then, I take time to briefly respond. Don't worry about taking a grade for this assignment.
Early Finisher Notebook
Don't let the title fool you! This journal is a great way to kick off the day, and if you get students familiar with the process, it doubles as early finisher work, too. This early finisher bundle has tons of task cards with the goal of challenging student critical thinking and creativity. It includes resources like "What if…" task cards and critical thinking questions.
I really like that it includes lots of variety because my students never seem bored with these cards. If you're not sure where to store all of these early finisher task cards, I have a post about my new favorite storage idea!
Part Three: Morning Meeting
The last part of your classroom morning routine is the morning meeting. This is the time to build relationships, share, connect, and formally transition into the school day.
I wrote an in-depth blog about my morning meeting routine, but I wanted to give you an overview in this post as well. There are four basic components to a morning meeting: greeting, activity, morning message, and sharing.
Greeting – During this component, each student is greeted individually. You want students to officially greet and welcome everyone to class, but this also gives you a chance to say hello to everyone. You can have students turn and talk and then give a greeting, such as waving, shaking hands, or high-fiving.
Activity – The activity is a great time in the classroom morning routine to come together. During the activity, you can play a game, engage in a read aloud, or even do a content review activity. If there are important announcements to make, this would likely be done in place of the activity.
Morning Message – Next, have students read the morning message you have written on the board. This might include special items for the day, an overview of the daily schedule, or a special holiday taking place. After they read, have them write a response. This can be in response to something on the board or just a general question about themselves.
Sharing – Lastly, students will share. I typically allow three or four students to share each day, so it doesn't take too much time. After someone shares, other students are allowed to ask questions. Students can share their response to the morning message question, or you can give them another prompt. This doesn't need to be academic, but instead just a community building exercise!
Setting up an effective classroom morning routine takes time! You will have to play around with things. However, once you have a routine set, practice and practice again! This will truly make a big difference on how your students start their day!
Mary Montero
I'm so glad you are here. I'm a current gifted and talented teacher in a small town in Colorado, and I've been in education since 2009. My passion (other than my family and cookies) is for making teachers' lives easier and classrooms more engaging.